SEMINOLE WING CHUN HISTORY
Wing Chun Kung Fu was first taught in Central Florida by Ken Werner, one of the original students of Sifu Ben Der of San Jose, California. Seminole Community College was the location of Ken's first and only public class. Karl Godwin was in this original class and, by the end of the second month remained as the only student. During this time, the art was taught at a very slow pace to test the patience of all but the most dedicated students. Sil lim tao  and doan chi sao were the only aspects taught and the kim
yeung ma horse was emphasized to the point of extreme discomfort.
For the next several years, Karl learned the entire art from Ken as his sole pupil and opened a public class in August of 1982. Although Karl had a few private students prior to this, Russ Shiebenburger assisted Karl with this class. Notable students of this time were Steve Causey, Dan Berry and Bill Graves, who later introduced our branch of Wing Chun to Jacksonville.
In January of 1984, Karl set up a class in Apollo Beach Florida. Kim Leisey was the significant student of this period. He maintained classes and continued teaching Wing Chun after Karl returned to Sanford. Kim trained with Karl until 2006.
During this period, Karl would commute to Sanford from Tampa to refine his skills with Ken Werner. Because of Ken's long arms his chi sao had a very long bridge
extension while keeping the elbows in., offering an unusual and effective approach to a traditionally close-in martial art.
In the summer and fall of 1985, Kevin Povelite and John Gendall began training in the style. Both still practice and Kevin is still training at the school. John Cardenas is another distinguished student who began training at this time.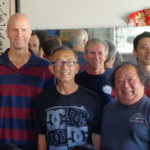 In the mid-nineties, Karl re-established his ties with his teacher's California roots by visiting the classes of Kenneth Chung. In 2004, Karl met Ben Der, Ken Werner's Sifu, and has worked with him several times since. Meeting Ken's good friends and classmates Steve and Sandy Wong brought this 26 year journey of Florida Wing Chun full circle.
After 44 years, the classes are going as steady as ever. Along with the regular students, alumni from the past decades will still return for regular training or visit for a quick workout.
A BRIEF HISTORY OF SEMINOLE WING CHUN
BEFORE
SEMINOLE WING CHUN
 SAN FRANCISCO TO SAN JOSE TO SANFORD!
In 2011, Sifu Ben Der taught a weekend seminar at Atlantic Warriors Wing Chun in Jacksonville Florida. The host of the seminar, Sifu Jonathan Petree (Founder of Atlantic Warriors and student of Sifu Bill Graves) spent time with Ben and learned of the early days of our Wing Chun in the U.S.
Atlantic Warriors Hosts Sifu Ben Der for a History-Making, Phenomenal Wing Chun Kung Fu Seminar in Jacksonville, Florida
By Jonathan Petree
(L to R) Jesse Moon, Jonathan Petree, Ben Der, Karl Godwin and Bill Graves
Over 50 years ago in Hong Kong, Sifu Ben Der began his journey on the wing chun path. As a teenager, he would walk to Ip Man's school to train in his beloved wing chun kung fu. At that time, he was attending St. Francis Xavier school, and was friends with Hawkins Cheung, and Bruce Lee. Soon after this time, all three of them would come to America. Sifu Ben said, that when he and Bruce first came to the United States they both originally lived on Jackson Street in San Francisco, and being friends and prior classmates, would often touch hands, and chi sao in Bruce's apartment.
Ben Der then moved to Tampa, Florida and attended Jefferson High School while living with his father. Sifu Ben said that since he had no one to train with while in Tampa, he would find creative ways to train his wing chun. Everyday, for hours, he would do the wing chun sets, and practice the techniques on whatever he could find. After leaving Jefferson High School, Ben moved back to San Francisco. He immediately tried to find his friend Bruce, but Bruce Lee had already moved to Seattle, Washington. However, Ben was able to keep in contact with his other childhood friend, Hawkins Cheung. To this day, Sifu Ben Der, and Sifu Hawkins Cheung remain good friends, and have regular contact with each other. Most recently, Sifu Hawkins Cheung attended Sifu Ben Ders 70th birthday celebration in California.
In 1968, Ben Der was introduced to Kenneth Chung. They met and had some lunch, but after about 5 minutes, Ben said, Kenneth Chung wanted to touch hands. So, Kenneth Chung (Chung Maanin), who had just arrived in San Francisco from Leung Sheung's wing chun school in Hong Kong, and Ben went outside to workout. After some friendly chi sao, poon sao, and gor sao,  Ben said that Ken's skill was of a very high level. In fact, Sifu Ben told me that after touching Ken's hands he knew he had found his new wing chun teacher. As a result, Ben asked Kenneth Chung if he would take himself and the students that Ben had been teaching, as his students. Ken agreed, and the rest is history. Ben and Ken have been inseparable ever since. In fact, Ben Der found their first school location in Chinatown, and Ken would come to teach.
A few years later, in 1972, Ben Der began to teach again. He and his family moved to the south Bay area of San Jose, California, where he established San Jose Wing Chun. Sifu Ben Der said that his earliest students were Sandy Wong, and Steve Wong, which still train with him to this day. Another early student in Sifu Ben Der's first generation group was Ken Werner. Sifu Ben describes Ken Werner as a very smart, and highly intellectual student, who trained very diligently. Ken Werner attained a very high level of skill under Sifu Ben Der's tutelage. After many years of wing chun training, Ken Werner moved to Florida. In 1978, Ken Werner began training Karl Godwin in central Florida. Ken poured his knowledge into his most diligently training student, Karl. As a result, Karl Godwin established Seminole Wing Chun in the early 1980's. Sifu Godwin's school is now the longest, continuously running school in the state. In fact, it is THE place to learn the best wing chun kung fu in Florida. One of Sifu Godwin's early students was Bill Graves. Sifu Graves began training at Seminole Wing Chun in 1982. After many years of training, Sifu Graves started teaching, and his school is named The System Wing Chun. One of Sifu Graves' early students was Jonathan Petree. Sifu Petree began training at The System Wing Chun in 1994. After many years of diligent training, Sifu Petree was asked to teach. For several years Sifu Petree taught privately, before establishing Atlantic Warriors Wing Chun in Jacksonville, Florida in 2002.
More History!
This podcast / Youtube series by Sifu Francis Der and Wilson Kong presents interviews with Sifu Ben Der, Steve and Sandy Wong and Dr. Jack Ling. These interviews are real treasures!