SEMINOLE WING CHUN HISTORY
HISTORY
Wing Chun Kung Fu was first taught in Central Florida by Ken Werner, one of the original students of Sifu Ben Der of San Jose, California. Seminole Community College was the location of Ken's first and only public class. Karl Godwin was in this original class and, by the end of the second month remained as the only student. During this time, the art was taught at a very slow pace to test the patience of all but the most dedicated students. Sil lim tao  and doan chi sao were the only aspects taught and the kim
yeung ma horse was emphasized to the point of extreme discomfort.
For the next several years, Karl learned the entire art from Ken as his sole pupil and opened a public class in August of 1982. Although Karl had a few private students prior to this, Russ Shiebenburger assisted Karl with this class. Notable students of this time were Steve Causey, Dan Berry and Bill Graves, who later introduced our branch of Wing Chun to Jacksonville.
In January of 1984, Karl set up a class in Apollo Beach Florida. Kim Leisey was the significant student of this period. He maintained classes and continued teaching Wing Chun after Karl returned to Sanford. Kim trained with Karl until 2006.
During this period, Karl would commute to Sanford from Tampa to refine his skills with Ken Werner. Because of Ken's long arms his chi sao had a very long bridge
extension while keeping the elbows in., offering an unusual and effective approach to a traditionally close-in martial art.
In the summer and fall of 1985, Kevin Povelite and John Gendall began training in the style. Both still practice and Kevin is still training at the school. John Cardenas is another distinguished student who began training at this time.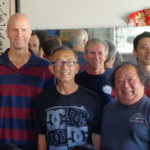 In the mid-nineties, Karl re-established his ties with his teacher's California roots by visiting the classes of Kenneth Chung. In 2004, Karl met Ben Der, Ken Werner's Sifu, and has worked with him several times since. Meeting Ken's good friends and classmates Steve and Sandy Wong brought this 26 year journey of Florida Wing Chun full circle.
After 44 years, the classes are going as steady as ever. Along with the regular students, alumni from the past decades will still return for regular training or visit for a quick workout.
A BRIEF HISTORY OF SEMINOLE WING CHUN